Vaccine injury lawsuit and vaccine injury claims
How to navigate the vaccine injury program
Vaccine injury lawsuits and vaccine injury claims under the Vaccine Injury Compensation
Program are no-fault claims unlike a traditional civil lawsuit.
What is a vaccine injury lawsuit?
A vaccine injury lawsuit is more commonly known as a vaccine injury claim under the Vaccine Injury Compensation Program. No one receives a vaccine with the expectation of suffering a severe adverse reaction, injury or in rare cases, death. However, in a small percentage of vaccine administrations, serious injuries do occur. Often, the recipients that do suffer a reaction are stigmatized by others, including medical professionals, who do not fully understand the medical causal relationship between vaccines such as the influenza vaccine and pertussis vaccine, and the associated adverse reactions like Guillain-Barré Syndrome or a shoulder injury.

Our vaccine injury attorneys are well-versed in the dangerous effects and conditions that can be caused by vaccines and have litigated thousands of vaccine injury cases in the Vaccine Injury Compensation Program. In addition, we work closely with the best medical specialists in orthopedics, neurology, and immunology so that we can constantly evolve and better represent our clients. With the support of our medical experts and our experience in vaccine claim litigation, we are the best ally an injured party can have in a vaccine claim. Here's why:
We perform a comprehensive analysis of all cases and explain it to the injured party step by step. When a potential or current client calls My Vaccine Lawyer, he or she can expect to speak with an experienced vaccine attorney who will closely examine the facts of the case and explain the legal options moving forward.
We can work with medical providers to ensure that each client gets necessary treatment. We are familiar with the various issues that arise in seeking treatment for an injury including specialist referrals, diagnostic tests, insurance issues, and medical bills.
We will pay all of the costs of each claim (and clients do not pay us back). This includes obtaining medical records, paying filing fees, and paying medical experts. We never take any money from our clients for costs or legal fees. Rather, the Vaccine Injury Trust Fund will pay our costs when we successfully resolve a claim. This Trust Fund is subsidized by an excise tax on vaccine makers implemented by the federal government.
We will work tirelessly to move each claim forward as quickly as possible. In every case it is our goal to resolve the claim as quickly as possible.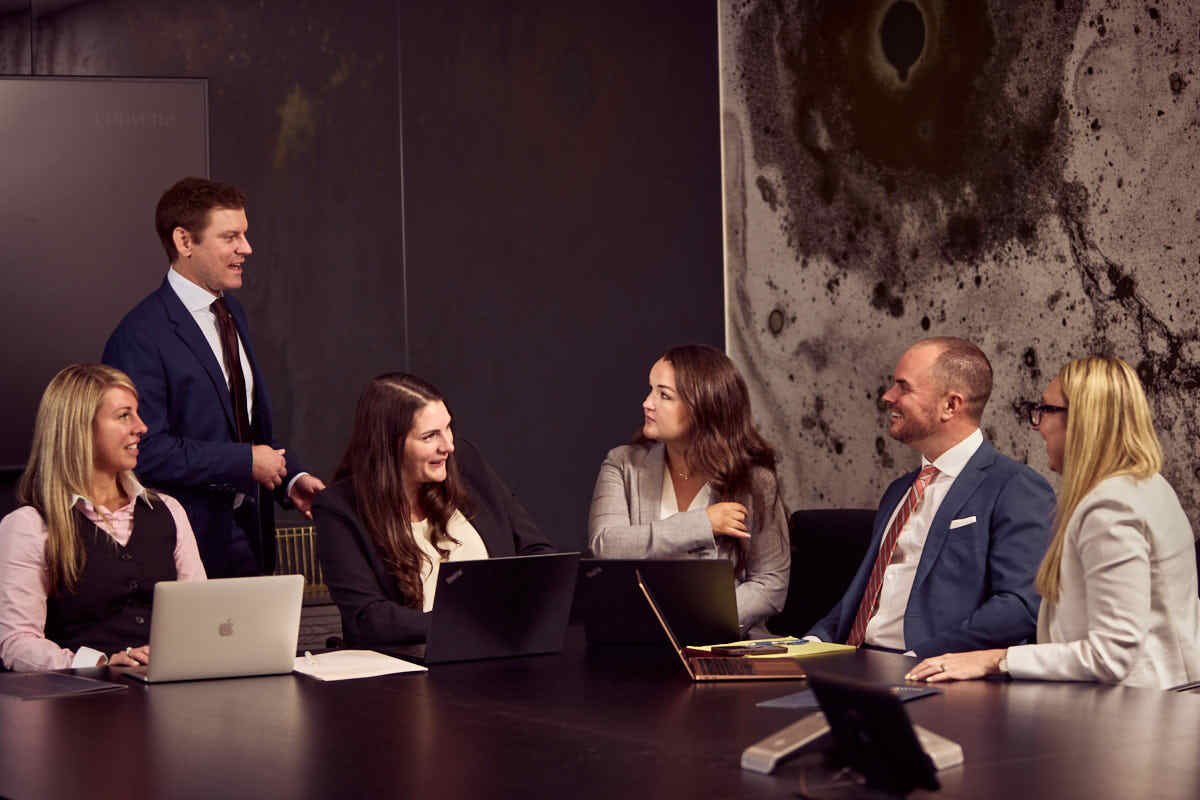 Vaccine injury lawsuit lawyer
Many of our clients have already discussed their case with a family friend or local personal injury attorney before they find us. These conversations can be misleading, as vaccine injury law is a very specialized type of federal litigation involving complex legal, medical, and scientific issues. These are not "local" cases and cannot be filed in state courts by a local personal injury attorneys practice.

Our attorneys are specially licensed to practice in the U.S. Court of Federal Claims and only handle vaccine claims against the Department of Health and Human Services. Since vaccine injury litigation is a highly specialized area of practice, there are few practicing attorneys in the vaccine injury field. Our vaccine attorneys focus exclusively on this area.
Our history of success in vaccine court
Over the past few years alone, our attorneys have litigated thousands of vaccine injury cases through settlement or trial. We know the defenses raised by the Department of Justice attorneys and prepare each case with the specific goal of combating those defenses. Our efforts have achieved some of the best results in the program in recent years.

We operate with a mind toward client satisfaction. We keep our clients updated through each step of the process and explain potential problems and case strategy as we progress. We take pride in providing an outstanding client experience along with securing our clients deserved financial compensation to the fullest extent that the VICP allows.
Common vaccine injury lawsuit questions
Am I responsible for paying my own attorneys' fees and costs? No, you are not responsible for attorney fees. Unlike civil lawsuits, an injured party does not pay their attorney a percentage of the settlement/winnings. In vaccine injury claims, our fees and costs are paid from the Vaccine Injury Trust Fund – the same fund that pays the injured party's compensation. Therefore, our clients keep every penny of their compensation.


Are individuals who receive a covered vaccine outside of the United States eligible to file a claim with the National Vaccine Injury Compensation Program? It depends. If a person received a vaccine covered by the NVICP outside of the United States or its trust territories, he or she may be eligible for compensation if: (1) the person was, at the time of vaccination, a U.S. citizen serving abroad as a member of the Armed Forces or as an employee of the U.S., or a dependent of such a citizen; or (2) the vaccine's manufacturer was located in the U.S. and the person returned to the U.S. within 6 months after the date of vaccination.


Do you represent clients in my state? Yes. My Vaccine Lawyer represents clients in all fifty states and trust territories of the United States.


How do I report a vaccine injury? The government created a vaccine safety documentation system called VAERS, which stands for Vaccine Adverse Event Reporting System. Ask your doctor, nurse, or health department to file a Vaccine Adverse Event Reporting System ("VAERS") form. You can also call VAERS yourself at 1-800-822-7967.


How long do I have to file my claim? Under federal law with the VICP, the statute of limitations requires that your claim must be filed within three (3) years from the date of onset of symptoms. However, to be safe, our firm recommends that you file no later than three (3) years from the date of your vaccination. In the event of a vaccine-related death, a claim must be filed no later than two (2) years of the injured person's death and within four (4) years of their first symptom or onset of injury.


How long does the entire process take? This process is designed to be quicker than civil litigation. A hearing on whether the vaccine caused the injury often occurs within two years. Cases that settle can conclude in as little as one year. However, depending on the complexity of your case, it could take two years or more for the claim to resolve.


If my condition is not listed in the vaccine injury table can I still file a claim? Yes. As long as you receive a vaccine listed in the Vaccine Injury Table and the vaccine caused your illness, injury or severe reaction, you may file a claim and receive compensation.


What damages can I recover? A vaccine claim may result in the following compensation:
Past and future medical care, custodial care, and rehabilitation costs;
Past and future lost earnings;
Up to $250,000 for pain, suffering, and emotional distress.

Where does the compensation come from? Parties injured by vaccines are paid from the Vaccine Injury Trust Fund. This trust fund is supported by a tax on vaccine manufacturers. The manufacturers pay a tax on each dose of a vaccine that is put into circulation. Compensation for vaccine injury victims as well as attorneys' fees and costs are paid by the trust fund. The amount in the fund fluctuates, but it usually contains over $3 billion.


Why was the vaccine program created? In the early 1980's, news reports of serious side effects from the DTP (Diphtheria, Tetanus, Pertussis) vaccine caused some to question the safety of the vaccine. Lawsuits were filed against vaccine manufacturers, doctors, and nurses. Some vaccine companies decided to stop making vaccines, which created vaccine shortages and threatened the public health. The potential crisis led to Congress enacting a new law to compensate those found to be injured by childhood vaccines. The new program, called the National Vaccine Injury Compensation Program, prevents civil lawsuits against vaccine manufacturers, doctors, nurses, and pharmacists. The program directs that all claims for vaccine injuries or illnesses be filed with the NVICP. The program took effect in 1988.


Will I have to go to court? Probably not, but it is possible. Most vaccine cases are settled before trial. Since the Vaccine Court is located in Washington, D.C., it can be quite a distance from the injured party's home. Therefore, the Special Master will sometimes allow the injured party to participate by videoconference or schedule the hearing at the nearest federal courthouse.
Vaccine injury lawsuit resources
We highly recommend that injured parties hire a vaccine injury lawyer and not attempt to represent themselves in the National Vaccine Compensation Program. Hiring a vaccine attorney comes at no cost to the the injured party as the Court pays for all legal fees. The VICP is often a very difficult, contentious, and complex process often involving complicated legal, medical, and factual issues. The Health Resources & Services Administration provides a Vaccine Injury Compensation Program infographic which helps explain the claim process, compensation fund, covered vaccines, and case timeline from beginning to end. Below are a few vaccine injury lawsuit resources:
I reached out to My Vaccine Lawyer after confirming I suffered from SIRVA. They were so helpful, understanding and thorough throughout the process. They were quick to respond, always answered the phone and I feel they fought to get me what I was entitled to. If you suffered from an injury then please call My Vaccine Lawyer. They will take care of you!
- Melissa Heffley, SIRVA Client
Don't worry, we're here to help.