Zostavax Shingles Vaccine Lawsuit
If you suffered a serious side effect from the Zostavax shingles vaccine, you may have a legal claim against the pharmaceutical manufacturer, Merck. The attorneys at My Vaccine Lawyer are currently representing clients across the country who have suffered injury or serious side effects from the Zostavax vaccine.
The Zostavax vaccine has been linked to numerous injuries and side effects such as failing to prevent shingles, auto-immune disease, blindness, encephalitis, and the risk of stroke. The Food and Drug Administration ("FDA") announced that the Zostavax vaccine was only effective in about 50% of recipients. In addition, if the vaccine proved to be effective, the immunization's lifetime for protection is only six (6) years. If you are unsure about which shingles shot you received, the Zostavax or Shingrix vaccine, Zostavax requires one vaccination and Shingrix requires two vaccinations.
The Zostavax vaccine lawsuit has been grouped into two (2) groups within multi-district litigation under U.S. District Judge Harvey Bartle of the Eastern District of Pennsylvania. As trial dates are currently set for the fall of 2020 and also the summer of 2021, Judge Bartle has divided up the initial bellwether cases into two (2) categories: Group A and Group B. The term bellwether is used to describe a small series of cases in a greater lawsuit to help determine settlement values for all of the individual claims. Group A consists of those who have suffered a development of either shingles, herpes zoster encephalitis, or Ramsay Hunt Syndrome following a Zostavax administration. Group B contains those who have suffered non-shingles side effects such as aseptic meningitis, Guillain-Barre Syndrome, or Bell's Palsy to name a few.
About the ZOstavax Shingles Vaccine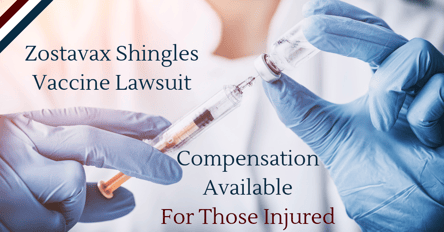 In 2006, the Food and Drug Administration ("FDA") approved Zostavax, the only shingles vaccine green-lighted for recipients over the age of 50. The vaccine was an important breakthrough in fighting the disease. It quickly became one of the leading vaccines used for people 50 and older over the next 12 years. Although by the time researchers at the FDA discovered the actual efficacy rate of Zostavax, Merck had profited over $750 million in sales from its shingles vaccine.
However, the Zostavax vaccine contains a live attenuated varicella-zoster virus which is a 'weakened' form of the chickenpox virus. This can cause serious adverse reactions including the very virus it's intended to prevent - shingles. That's right, the vaccine that is marketed to prevent seniors from contracting this excruciatingly painful virus is found to actually cause shingles in some individuals. Yet, it was not until 2014 that shingles was added as a side effect. It is not uncommon for some recipients to experience an episode of shingles more than once.
Merck now faces lawsuits from consumers who allege that it produced and sold an unreasonably dangerous vaccine and although it knew of the defective nature of its Zostavax vaccine, continued to manufacture, market and sell its product without providing adequate warnings - all at the expense of the public health and safety. It is important to note that the Zostavax shingles vaccine is NOT covered under the National Vaccine Injury Program's list of covered vaccines. All injuries and adverse reactions under the required criterion are being consolidated into lawsuits against the vaccine's manufacturer, Merck.
Zostavax Shingles side effects and adverse reactions
The Zostavax vaccination has been linked to numerous injuries and side effects after some recipients have been immunocompromised. When the recipient's body is unable to fight off the small dosage of the herpes zoster virus, the body can be overcome by a multitude of adverse reactions including shingles and chickenpox. These health problems have also been reported to persist for months after receiving Zostavax. Below are a list of injuries and side effects that can follow a Zostavax administration:
Chickenpox

Shingles (herpes zoster)/post-herpetic neuralgia

Auto-immune disorders including Guillain-Barre Syndrome and Meniere's Disease

Bell's Palsy

Cardiovascular event

Hearing Loss

Pneumonia

Vasculitis

Other adverse reactions include meningitis,

encephalitis

, stroke, paralysis, Acute Myelitis, and wrongful death.
See Amy Senerth Discussing the Merck Zostavax Lawsuit with NBC10 Philadelphia
Injured by a Zostavax shot? TEXT 'VACCINE' TO 833-670-7851 FOR A FREE CONSULTATION
Shingles Vaccine lawsuit eligibility
If our vaccine injury lawyers determine that you have a valid claim for damages resulting from the Zostavax vaccine, you could be entitled to compensation. We can recover damages for pain and suffering, out-of-pocket medical expenses, lost wages from missed work, as well as other compensation. All cases are eligible for a free consultation and if you retain our team to represent you, cases are handled on a contingency fee basis, meaning we receive no attorney fees unless the case is successful. If you wish to have your case or a loved one's case reviewed, request a free consultation and claim evaluation. If you want to learn more about successful results for vaccine injury clients, click on the link below to see a detailed table for compensation amounts for prior successful vaccine injury cases.
Related
Page last reviewed and updated: December 11, 2020